The City of Grain Valley, Missouri, is home to opportunity, and that's what we looked to for inspiration while redesigning their website.
We wanted website visitors to feel welcome and have every opportunity to easily connect with city departments and services. Throughout the process, we worked with the City of Grain Valley's Administration Department to achieve their goals for the site, including improved communication between the city and the public.
The old site was sometimes hard to navigate and could overwhelm visitors with information. We made it an objective to simplify site navigation and provide website users with information via clean and consistent page structures.
"When someone visits the website they immediately can find City news, meeting agendas, an area to report concerns and they can quickly sign up for email communication amongst other things. Staff and residents have found the searchable FAQs and the quick links to pay water bills to be very useful as well.

Theresa Osenbaugh

Deputy City Administrator
In addition to meeting the overall website needs of the administration team, we also met one on one with each city department to build out and transfer their page content in ways that would be most helpful to them and the public. For example, new Mint Chip Lab modules were built for the Parks and Recreation Department to improve how they shared information about programs and leagues. The modules provide a way to consistently share the same information about each program and set expiration dates so the program information no longer shows on the website after registration ends.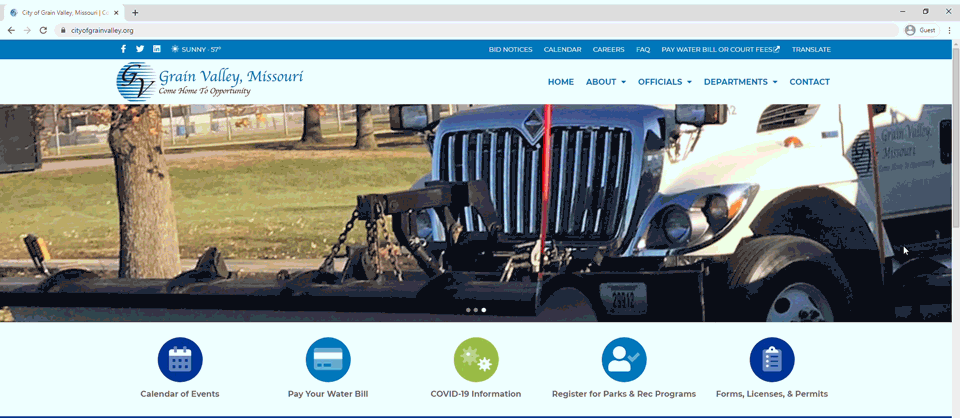 Creating the site during the COVID-19 pandemic placed heightened importance on residents finding services and answers to their questions easily on the site to limit in-person interactions. Plus, it's a lot more convenient! We achieved this goal with several features.
Quick links on the homepage highlight popular services right off the bat so users can access them immediately. Right below those quick links, website users will find a news rotator where they can check the city's latest announcements. Users who keep scrolling the homepage will then come to the Connect with City Government feature. Here, users can sign up for notifications and emails, view information about board and commission meetings, fill out a form to report a concern, and/or view city contact information. Public meeting notices are also posted on the homepage.
Similar to quick links on the site's homepage, each department landing page includes links to the services they offer and FAQ (if available).
In addition to these homepage features, website users can view upcoming board and commission meetings, as well as community events, on the calendar page. And users can find more information by utilizing the site's search function and browsing its FAQ.
It was a pleasure to work with Theresa and all of the staff with the City of Grain Valley. We are thrilled the website is launched and hope it enables the city to better communicate with the public and vice versa.
"The City was very happy with a seamless transition to the new site designed last fall. When creating the website, increased communication with residents and businesses was a top priority and the new website has many features which have been successful towards this goal.

Theresa Osenbaugh

Deputy City Administrator