We were thrilled to jump into the exciting world of movies and entertainment with one of our latest website launches! We recently developed a new site for the Knoxville Grand Theater.
After a malware attack on their website, the Knoxville Grand Theater needed a new website quickly. The site communicated upcoming movie showtimes and allowed the public to vote on which movies came to the historic theater next.
"We knew we had to act fast," explains Kimber Box, Neapolitan Labs' senior project manager.
"A new site was long over due for our organization, and, after a malware attack, our old site was completely unusable. We needed a new functioning site as soon as possible. Our end goal was to have a functional site with a more cohesive and elevated look.

Jocelyn Fee

Grand Theater Foundation Executive Director
We worked with the Grand Theater to not only make them a new functioning site but also one easier to navigate, especially on mobile devices.
"If someone was out having dinner and wanted to see what was playing, we wanted them to have that option from their mobile device," Box says.
In addition to the responsive design, we took this opportunity to bring the spirit of the theater online, incorporating the theater's Art Deco style and its historical roots throughout the site.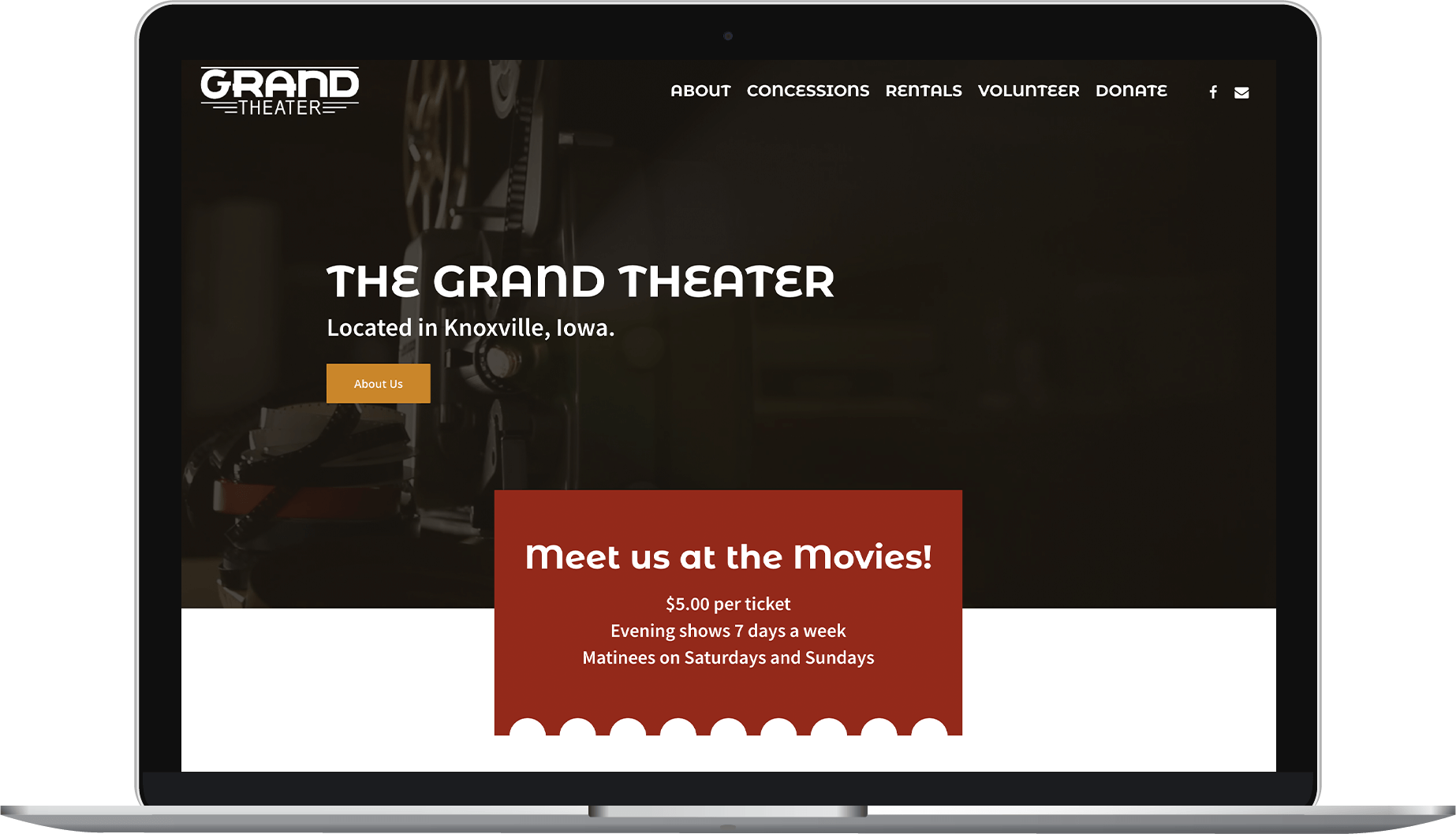 Before/after of the Grand Theater website
"When thinking through the design for this website, we wanted to make sure we had a modern feel while bringing back the idea of how movies used to be played and tickets were taken, given this movie theater's history.

Kimber Box

Senior Project Manager
The new site prominently features showtimes for the week, upcoming movies, and their interactive feature of voting for future films to show. Moviegoers will also find concession prices (We had a lot of fun writing descriptions for these!) and theater rental details on the site. Website visitors can also learn how to volunteer and donate to the Knoxville Grand Theater (how they keep their prices at just $5 per ticket!). If you're local, be sure to grab some popcorn and enjoy a show!
In need of a redesigned site for your business or organization? Contact us for a quote!
"Our new site meets all our needs and our goal of a cohesive elevated look … The color scheme chosen elevates and coordinates with our original logo colors. Our site now stands out when compared to competitors in our area.

Jocelyn Fee

Grand Theater Foundation Executive Director